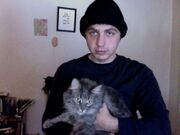 Noah Cicero (born 1980) is an American novelist, short-story writer, and poet. He lives in Youngstown, Ohio. He is the author of six books of fiction and two ebooks.
Cicero's stories, poetry, and essays have been published extensively in magazines such as Scarecrow, Brittle Star, Retort, Nth Position, Black Ice, Identity Theory, Prague Literary Review, and many others. His fiction is anthologized in The Edgier Waters, published by 3:AM Magazine in 2006
He has cited Sartre, Erskine Caldwell, and Richard Wright as central influences.
His essays are both political and philosophical in nature, sometimes using the tools of psychology and philosophy to crucify those political leaders or followers he sees as acting in bad faith. Some of these essays have been written in collaboration with Ohio journalist Bernice Mullins.
He is a former co-editor of 3:AM Magazine.
He is considered one of the most prominent and influential members of the alt lit community.
Bibliography
Edit
Novels
The Human War (2003, Fugue State Press; foreign publications include Snowbooks, London 2007; as well as editions in Greek and German)
The Condemned (2006, Six Gallery Press)
Burning Babies (2006, Parlor Press)
Treatise (2008, A-Head Publishing)
The Insurgent (2010, Blatt)
Best Behavior (2011, Civil Coping Mechanisms)
Go to Work and Do Your Job. Care for Your Children. Pay Your Bills. Obey the Law. Buy Products. (2013, Lazy Fascist Press)
eBooks
The Living And The Dead (2006, Bear Parade)
Nosferatu (2008, Bear Parade)
Ad blocker interference detected!
Wikia is a free-to-use site that makes money from advertising. We have a modified experience for viewers using ad blockers

Wikia is not accessible if you've made further modifications. Remove the custom ad blocker rule(s) and the page will load as expected.