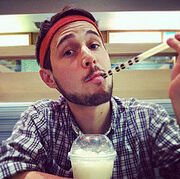 Heiko Julien (born 1986), is an American poet, short-story writer, musician, and Internet personality. He lives in Chicago, Illinois. Julien 's stories, poetry, and essays have been published in n+1, Thought Catalog, Pop Serial, Shabby Doll House, and The Lifted Brow. His work has been described as being preoccupied with memes, media, and online community.
Julien has cited authors Mark Leyner, Ben Brooks, Tao Lin, and blogger Steve Roggenbuck as central influences.
Publications
Edit
I Am Ready to Die a Violent Death. 2013, Civil Coping Mechanisms.
Haters Rag, editor.
Ad blocker interference detected!
Wikia is a free-to-use site that makes money from advertising. We have a modified experience for viewers using ad blockers

Wikia is not accessible if you've made further modifications. Remove the custom ad blocker rule(s) and the page will load as expected.